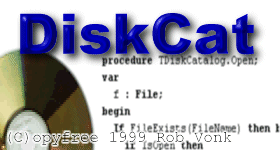 Do you have so much CD's, Zipdisks or floppy's that it takes hours to find a specific file? Disk Catalog is a free Windows program that can help. With diskcat you can create catalogs of all disks where Windows assigned a drive letter to.When you need a file from one of your disks you only need diskcat to locate it. It's a matter of seconds instead of hours. Forget the comercial and shareware programs. Diskcat is all you need!
Some features:
Diskcat has efficient data storage. The catalog from my harddisk with 21156 files and 1006 directories is only 578 KB. An average CD with 6000 files is only 225 KB.
One of the nicest options of Diskcat is that it stores the contents of a Zip-archive in the catalog too!
Diskcat searches with full wildcard support. You can use d??kc?t.*, di*t.exe and diskcat.e?e.
Add descriptions to the files in the catalog.
Extracts information for different file types.
Create your own plugins for extracting information from files! An example is included in the Plugin SDK archive.
View allocated bytes in the tree.


Give it a try and you'll love it!

Rob